Diu & Gir Somnath GA
GA Profile
Current Infrastructure
GA Updates
Diu & Gir Somnath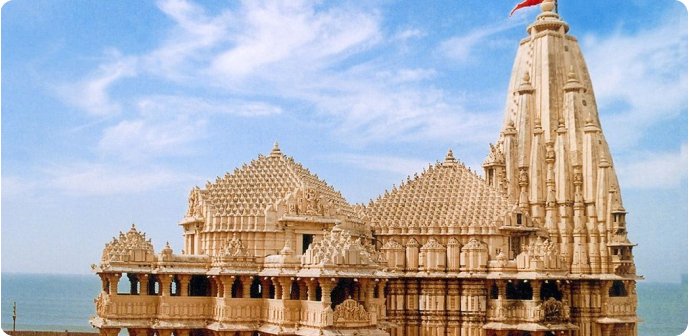 Diu is island situated slightly off the coast of Kathiawad near the Port of Veraval in Gujarat with a coastal length of 21 Km and is at a distance of about 768 Km from Daman, the Capital of the Union Territory of Daman and Diu. Diu is bounded by Gir-Somnath and Amreli District of Gujarat in the North and by the Arabian Sea from three sides. It is connected to the mainland via two bridges.
With no tall buildings except the fort, Diu has a characteristically low skyline. Old Diu is known for its Portuguese architecture. The nearby Nagoa beach and offshore lighthouse are popular tourist destinations, and the coast is a popular recreational area for parasailing, boating and jet skiing.
Gir-Somnath District is a district of Gujarat, India. It is located on the southern corner of the Kathiawar peninsula with its headquarters at the town of Veraval. Veraval, Talala, Sutrapada, Kodinar, Una and Gir Gadhada are the talukas of Gir Somnath District. The Gir Forest is a home of many wildlife creatures including lions, deer, and monkeys. Asiatic Lions can be only be found in the Gir Forest.
Veraval is a Muncipality and the headquarters of Gir Somnath district. Fisheries have always been the main industries in the town and are dominanted by the Kharwas (fisherfolk). The fishing is done mostly on traditional boats and trawlers. Veraval also has a large boat making industry.
Una is the biggest taluka in Gir Somnath district in number of villages. Main tourist attractions are Pauranik Talav (Ancient Lake), Rawal Dam, Ahmedpur Mandvi Beach, Sana Cave An ancient place, Tulsishyam famous for temple of lord Krishna, Banej Temple of Mahadev in middle of Gir forest. Una is one of the "the biggest Limestone supplier" in Gujarat State.
Kodinar: Main tourist attractions are Mul Dwarka, Kaj and Kanjotar a small seashore village near Kodinar in which mul dwarka is a historic place of the original Dwarka of Mahabharata. Kodinar is home to Gujarat Ambuja Cement Ltd. One of the largest cement manufacturing company.
Talala Gir is Famous for its "KESAR MANGO", Siddi's folk dance "Dhamal and Gir national park and Sanctuary". Siddi people who are originally from the south Africa are found in Jambur village, also known as Mini Africa of India.
Sutrapada is a coastal taluka of Gir somnath district. This place is known for GHCL plant, largest "Soda ash" producing company in the world. Gujarat Siddhi cement manufacturing plant is also located in the taluka.
Gir Gadhada is the newly formed taluka of the district. It has been curved out from Una taluka in August 2013. Famous Tulsi shyam, temple of Lord Krishna is situated in this taluka.
In September 2018, IRM Energy Limited received the authorization for development of City Gas Distribution network in Diu & Gir Somnath in the ninth bidding round of PNGRB.
As of September 30, 2022, IRM Energy has setup 13 CNG stations catering to the CNG requirement of local vehicles as well as floating heavy commercial vehicles commuting from neighbouring districts and states.
IRM Energy has also connected more than 1,505 Residential customers in the GA and started developing its gas network in Veraval also.
Commissioning of 14th CNG Station on 12th November, 2022 at Diu & Gir-Somnath GA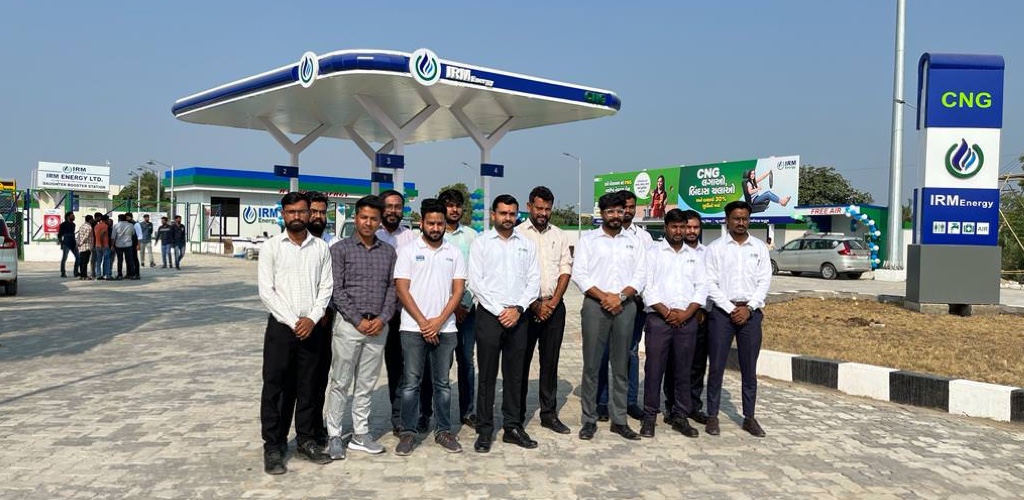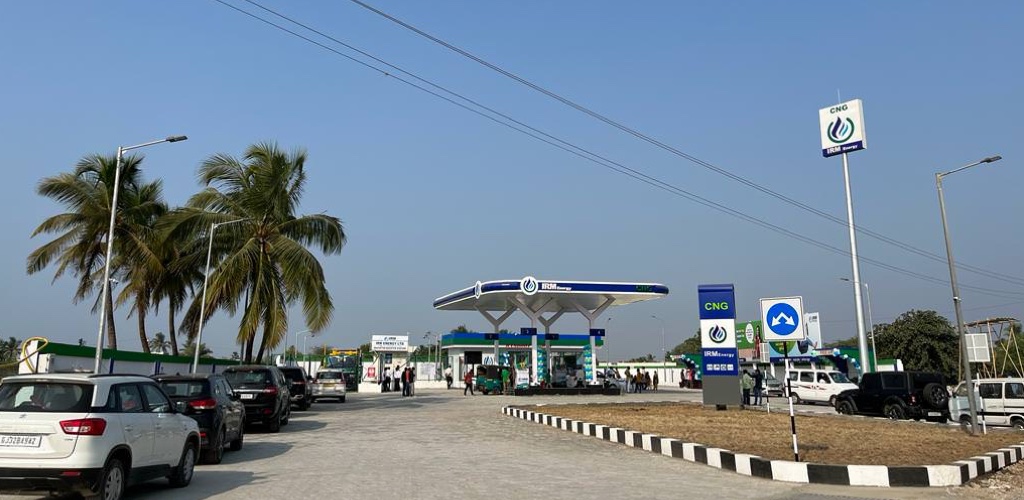 On 12th November 2022, IRM Energy Limited started its 14th CNG Station of Diu & Gir Somnath GA. This CNG station has been setup as M/s Ramdoot Energy in Veraval, which is a Daughter booster CNG station at present and will soon be upgraded to Online CNG station after commissioning of Steel pipeline. This RO was commercialized in just 4.5 months' time, hence distinguishing it as one of the fastest developed RO.
This RO is located near world famous Shri Somnath Mahadev Temple on Veraval bypass National Highway 8D. It will cater to the CNG requirement of tourists visiting Shri Somnath temple, auto rickshaws, taxis and local CNG car owners.
IRM Energy Limited inaugurated its 1st LCNG Station at Diu & Gir-Somnath GA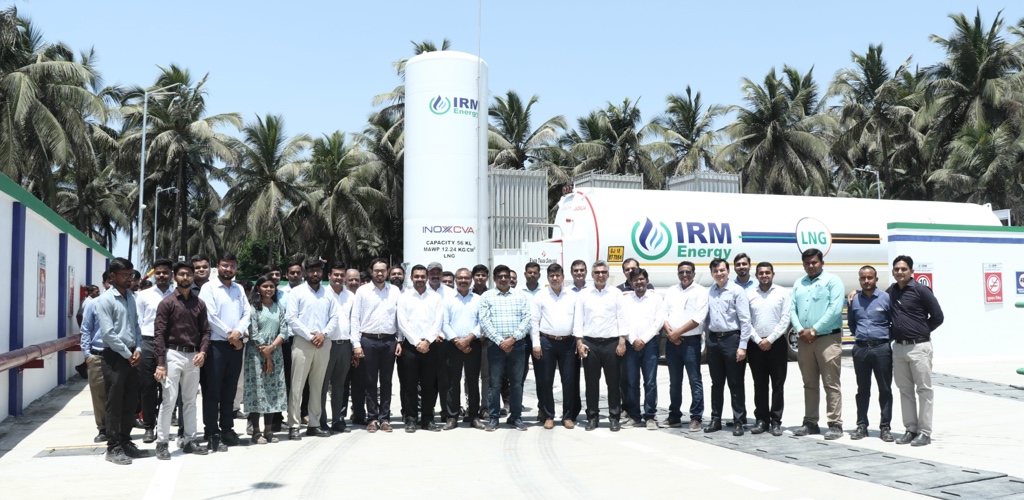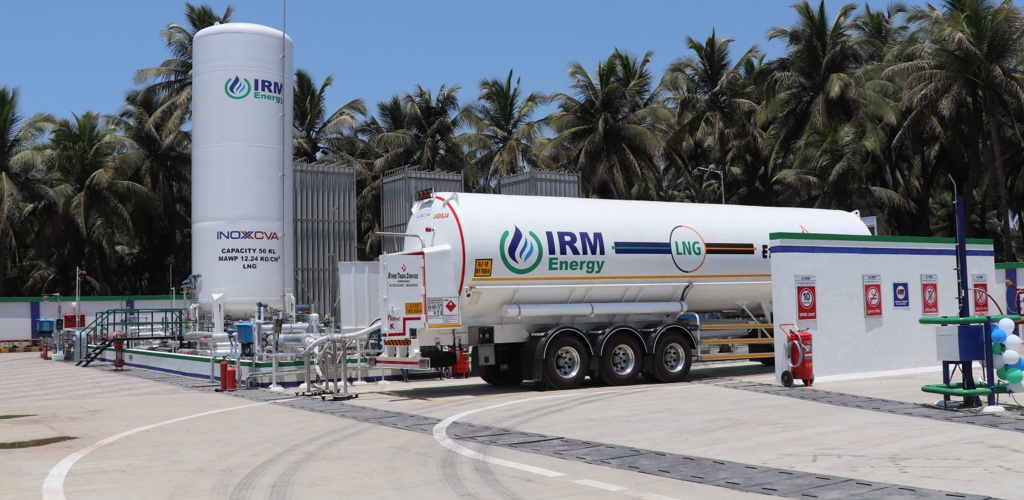 IRM Energy Limited has inaugurated and commercialized its 1st L-CNG Station on 25th April 2022 at Veraval in Diu & Gir Somnath GA. This L-CNG station shall also cater to the CNG demand of Veraval area through mobile cascade filling facility and upgradation of existing Daughter Booster Station Urja CNG Station to Online CNG Facility. Also this station shall cater to the PNG demands of domestic and commercial customers of Veraval city and nearby areas. This station has future provision for LNG dispensing also.
The station was commercialized in record time of 8 Months, which till date is the fastest setup of LCNG Station in India. The inauguration of this station was done by Mr. Karan Kaushal, CEO, IRM Energy followed by Flag off of first HCV filled from LCNG Station. A plantation drive was also arranged and saplings were planted by team members from IRMEL and INOX.